"Built it Correctly and they will come."
Paraphrasing this famous line from the movie Field of Dreams
reflects Rusty Tucker's philosophy and work ethic.He continues to believe in and practice this principle.
Born and reared in Longview, Texas, Rusty graduated from Longview High School then furthered his education at Stephen F. Austin State University. There he earned his Bachelor of Science Degree in 1974. With the ink barely dry on that new degree, Rusty returned to Longview and soon became involved with what is now The Rusty Tucker Sprinkler Company.
The company boasts a proud and successful legacy for 45 years – with Rusty at the helm as owner/operator for the past 30 years.He has been a Licensed Texas Irrigator since 1985…Texas Irrigation LI. # 3227
RT (as he's known throughout East Texas) loves to tell stories of many of his longtime customers and how they've continued to patronize his business time and time again.
"One man and his family built and moved into 5 new homes over the last few decades …I've installed irrigation systems in all 5," says a justifyably proud Rusty.
He has lots of stories like that.
He's simply the best at what he does. He's never in it for the short haul, but rather approaches relationships with his customers assuming they'll be relying on Rusty Tucker Sprinkler Company for years to come.
Rusty currently sits on the Board of the Irrigation Advisory Council of the Texas Commission on Environmental Quality.
He's a member and past Board Member, Texas Turf Irrigation Association.
A Member and Board Member, East Texas Irrigation Association.
He holds Certified Landscape Irrigator and Certified Landscape Irrigation Auditor accreditations from the Irrigation Association
Rusty Tucker Sprinkler Company has worked on all phases of irrigation from the small landscape areas of town homes to the larger projects such as parks and golf courses.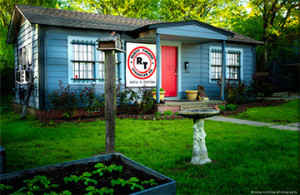 Responsible folks everywhere realize that water is becoming a precious resource and, to that end, The Rusty Tucker Sprinkler Company practices water conservation and strives to educate their customers to do the same.